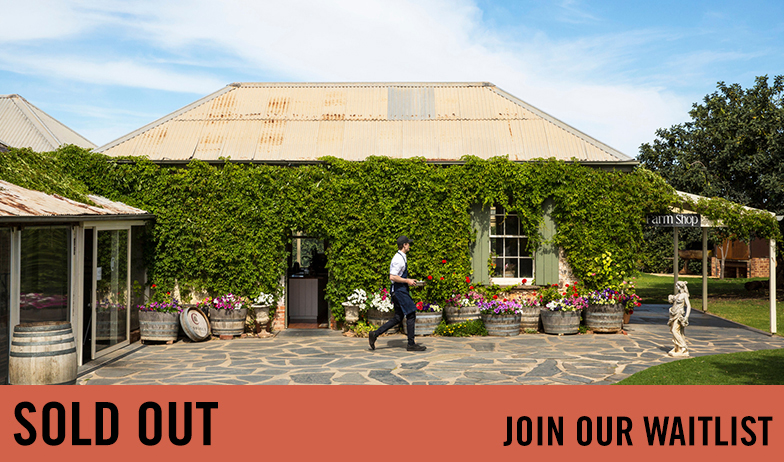 Autumn Harvest Feast
01 May 2021
12.00pm - 3.00pm
Price from $295
Overview
Our event capacities are set based on 1 person per 2 square meters. As such, more tickets may become available for certain events as restrictions change. Sign up here to be notified if more tickets are released to this event.
A dream team of all-Australian chefs is ready to make magic in McLaren Vale. Andrew McConnell – whose restaurant group includes Cumulus Inc. and Cutler & Co., Melbourne – and Brae's Dan Hunter will join Coriole head chef Tom Tilbury to present a three-course lunch.
Relaxed elegance rules: think vineyard views, wine pairings from Coriole and fellow McLaren Vale labels, and dishes reflecting the region's abundant produce. The trio are mod-Oz trailblazers and this lunch will capture their renowned creativity – simple ingredients transformed by deft hands and led by a generous spirit. Get out of town.  
McConnell cooked across Europe and Asia before opening his seven lauded Melbourne restaurants. Together they're known for inspiring cult followings and continuing to bring modern fine dining into a more casual context.
Brae launched in 2013 as Hunter's first solo venture. Based on a working organic farm in Victoria's Otway Ranges, it immerses guests in nature and continues to attract widespread acclaim.
Tilbury grew up in McLaren Vale and returned to open fine diner Gather at Coriole after a stint on the Limestone Coast. A champion of locally grown ingredients, he has expanded the on-site kitchen garden and is embracing all the region has to offer.
Terms and Conditions of Sale and Entry
A Note on Dietary Requirements:
Tasting Australia presented by RAA Travel menus are a convergence of South Australian regional produce at the height of its season. Our interstate and local chefs deliver sublime dining experiences, with curated multi-course set menus, which take months of careful planning. Our cast of culinary professionals highlight seasonal, local South Australian produce in each of their unique dishes which have been created exclusively for the festival. Many of the dishes featured will not be suitable, or adaptable for particular dietary requirements by our visiting chefs, as some ingredients are embedded in prior preparations weeks out from the event. Tasting Australia can offer an alternative vegetarian and coeliac menu should it be requested at the time of booking, although this menu may not be designed or executed by the visiting chefs. If the opportunity to enjoy a meal from one of our festival stars is why you're thinking of joining us, we urge you to explore other events in the program that may be more tailored to your needs.
However, if the allure of this incredible dining experience is what's piqued your interest, talk to us at tastingaustralia@sa.gov.au and we will see what can be made possible.