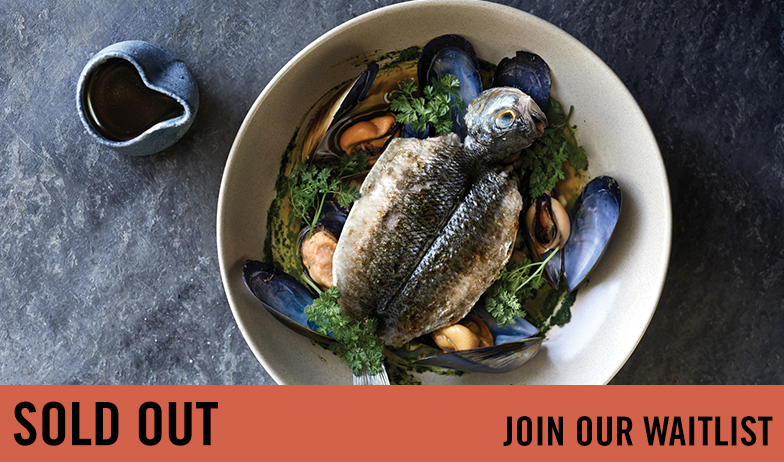 Coasts, Rivers & Sea
06 May 2021
7.00pm - 10.00pm
$295
Overview
Our event capacities are set based on 1 person per 2 square meters. As such, more tickets may become available for certain events as restrictions change. Sign up here to be notified if more tickets are released to this event.
South Australian seafood will shine in this dinner created by a trio of star chefs. 
On the menu: four courses shaped by local fare from the coast, river and sea. Each will be perfectly paired with wines chosen by Tasting Australia's sommelier, allowing you to enjoy a culinary tour from the comfort of Town Square. 
Chefs Sean Connolly, Analiese Gregory and Trisha Greentree are uniting for this very special one-off experience. 
Along with the acclaimed Sean's Kitchen, Yorkshire-born Connolly runs restaurants in Sydney, Byron Bay, Auckland and Dubai. He has cooked professionally for more than 25 years, guided by a passion for produce and simple, honest food. 
Gregory is driven by curiosity. Her career to date has been shaped by stints in lauded kitchens across Europe, among them Bras – run by Michel Bras and recipient of three Michelin stars – and San Sebastián's Mugaritz. Foraging is a passion for Gregory, whose return to Australian shores led to time at Bar Brosé in Sydney and then Hobart fine diner Franklin. She remains based in Tasmania, creating dishes that celebrate the seasons and feature the freshest ingredients at their peak. 
Greentree lives and breathes hospitality. As executive chef of cult Sydney restaurants 10 William St and Fratelli Paradiso, she specialises in quality ingredients done well. This star has worked everywhere from California to Denmark – plus hatted Australian kitchens such as Bird Cow Fish, Mr Wong and Brae –with simplicity, seasonality and creativity always the order of the day.  
Dive in as Tasting Australia puts seafood in the spotlight. 
Terms and Conditions of Sale and Entry
A Note on Dietary Requirements:
Tasting Australia presented by RAA Travel menus are a convergence of South Australian regional produce at the height of its season. Our interstate and local chefs deliver sublime dining experiences, with curated multi-course set menus, which take months of careful planning. Our cast of culinary professionals highlight seasonal, local South Australian produce in each of their unique dishes which have been created exclusively for the festival. Many of the dishes featured will not be suitable, or adaptable for particular dietary requirements by our visiting chefs, as some ingredients are embedded in prior preparations weeks out from the event. Tasting Australia can offer an alternative vegetarian and coeliac menu should it be requested at the time of booking, although this menu may not be designed or executed by the visiting chefs. If the opportunity to enjoy a meal from one of our festival stars is why you're thinking of joining us, we urge you to explore other events in the program that may be more tailored to your needs.
However, if the allure of this incredible dining experience is what's piqued your interest, talk to us at tastingaustralia@sa.gov.au and we will see what can be made possible.