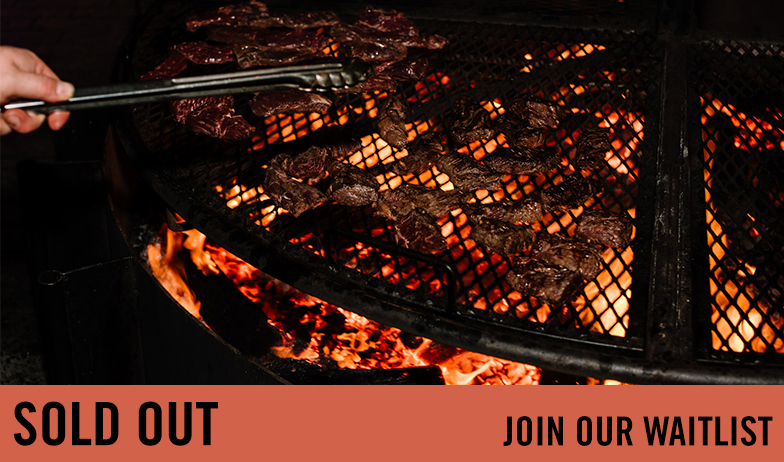 Flame Trees Feast
02 May 2021
10.00am - 3.00pm
Price from $250
Overview
Our event capacities are set based on 1 person per 2 square meters. As such, more tickets may become available for certain events as restrictions change. Sign up here to be notified if more tickets are released to this event.
Come close. The fire is ready. You're in the heart of McLaren Vale, with exclusive access to one of its most intriguing properties. In your hand? Wine from revered local labels SC Pannell and Koomilya. Welcome to the feast.
Lennox Hastie of Sydney's Firedoor will join Luke Burgess and Karena Armstrong of the Salopian Inn for a lunch celebrating the delicious possibilities of cooking over open flame. You'll begin with a walking tour of the Koomilya vineyard owned by winemaker Stephen Pannell, tasting its feted reds and learning about land restoration projects – including the innovative use of biochar – in progress.
Next is a set-menu lunch at the Salopian Inn. Expect plenty of organic, seasonal produce sourced from Armstrong's kitchen garden and nearby regional farms, plus SC Pannell and Koomilya wines paired with your meal.
Hastie – whose restaurant is fuelled only by fire – will bring his signature smoky style, honed through stints across England, France and Spain.
Burgess trained at Tetsuya's, staged at Noma and is now based in Hobart, where he worked at the innovative Garagistes.   
Flame Tree Feast is your chance to slip away for a day of true discovery.
Terms and Conditions of Sale and Entry
A Note on Dietary Requirements:
Tasting Australia presented by RAA Travel menus are a convergence of South Australian regional produce at the height of its season. Our interstate and local chefs deliver sublime dining experiences, with curated multi-course set menus, which take months of careful planning. Our cast of culinary professionals highlight seasonal, local South Australian produce in each of their unique dishes which have been created exclusively for the festival. Many of the dishes featured will not be suitable, or adaptable for particular dietary requirements by our visiting chefs, as some ingredients are embedded in prior preparations weeks out from the event. Tasting Australia can offer an alternative vegetarian and coeliac menu should it be requested at the time of booking, although this menu may not be designed or executed by the visiting chefs. If the opportunity to enjoy a meal from one of our festival stars is why you're thinking of joining us, we urge you to explore other events in the program that may be more tailored to your needs.
However, if the allure of this incredible dining experience is what's piqued your interest, talk to us at tastingaustralia@sa.gov.au and we will see what can be made possible.