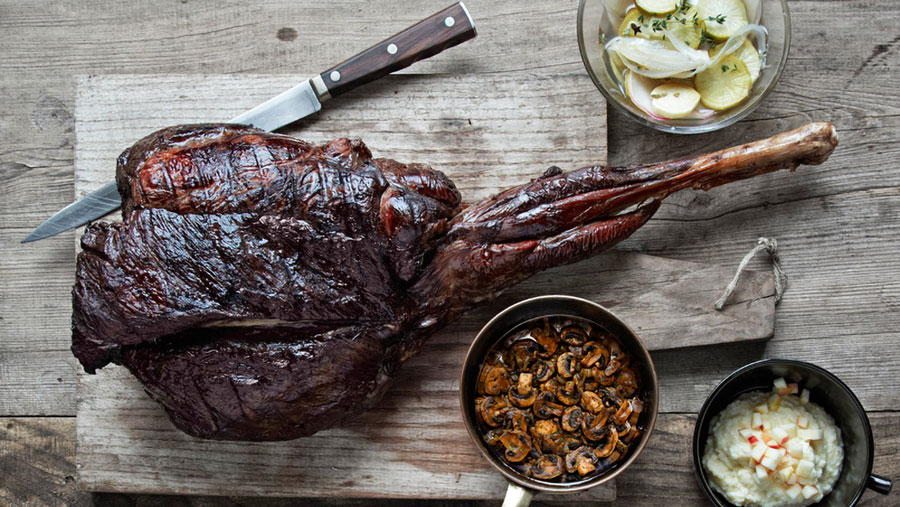 Forage to Feast Full Day Tour
03 Apr 2020
11.15am - 9.00pm
Price from $449
Overview
Tasting Australia presented by RAA Travel is postponed to 9 - 18 October 2020. We are now confirming all programming and this event will be updated with the latest details once they become available. Current tickets to events are transferable to these new dates and ticket holders will be sent their new tickets in due course. For more information on new dates and refunds please see here.
'Forage to Feast' brings you a food experience like no other. Share the day with Alana Brabin from" If You're Game"and Sparkke at the Whitmore, for a tour of carefully selected local producers up in the hills.
Collect all your key ingredients to take back to Scoffed where you will create your evening meal. From watching the cutting up of a whole deer to selecting wines that match your venison at hand picked boutique winery, Unico Zelo, this tour covers all your foodie bases. Alana's passion for game and fire, and everything South Australian has been fuelled by creativity, simplicity and nearly 20 years experience in the industry. From head chef at Lyndoch Hill to running her own catering and event business "If You're Game", Alana has pretty much done it all! She has chosen producers for your tour that have long standing relationships with her and who share her connection to the land, the environment and how much respect they have for their product, be it wine, mushrooms or caring lovingly for a herd of deer. They are in sync with the seasons, the environment, and the elements are their gods. It's hard to farm this country, so the small heroes doing the right thing need to be acknowledged and deserve our support. This tour celebrates the producers and we want to share with you why we love them, and it's our absolute pleasure to showcase some of the worlds' best, most conscientious people we know.
Tour Details:
This tour is a full day of food and fun. Picked up by chauffeured mini bus from Scoffed cooking school in the morning, you will head up to Birdwood venison farm in the Hills. Welcomed with a glass of champagne by the charismatic Mike and Nancy, you will tour the farm, watch a whole deer being carved and enjoy a light lunch of house made venison terrine, smoked meats and bread from the market, not to mention some amazing native dips, right next to the fawns. That's just for starters.
We then head to Kersbrook mushroom farm to try locally grown mushrooms at their freshest, as well as their exclusive olive oil. We'll keep you the dark about how they grow them so well!
Exploring further, we are off to up and coming boutique winery Unico Zelo & Applewood Distillery (hand picked hand picked by Alana for specialising in sustainable wine making, and using grapes that suit our climate). You'll get to try some unusual Italian varietals as well as afternoon tea and a tour of their facility which includes the gin distillery!
Back at Scoffed Cooking School, we have a short break and then we teach you how to create an amazing gourmet dinner.
Alana will start by demonstrating how to make venison sausages, with you having a hand at it too.
You'll then create 3 more courses withe plenty of help from Alana, finishing the night with local cheeses from the Adelaide Hills.
Dinner menu:
Samphire gin gazpacho
Venison carpaccio with ruby grapefruit, native rocket emulsion and Geraldton wax flowers
Venison and Mushroom Gyoza, Mushroom Gochujang dipping sauce.
Venison backstrap with mulberry puree, grilled fennel & orange salad, native dukkha.
Unico Zelo Fiano Sorbet with pomegranate, freeze dried raspberries and mushroom shortbread.
All dishes served with matching wines from Unico Zelo chosen by you.