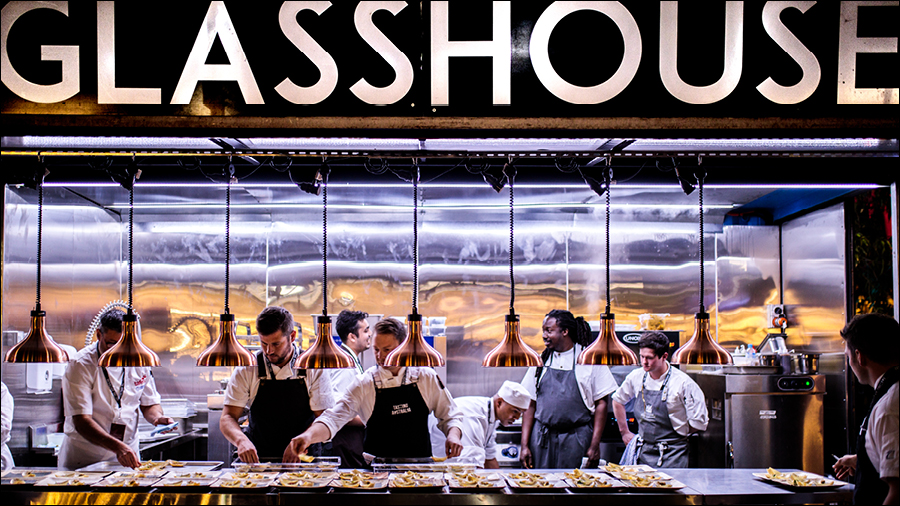 Glasshouse Kitchen presented by TheFork: Morgan McGlone, Shohei Yasuda, Victor Liong, Nathan Sasi [SOLD OUT]
02 Apr 2020
7.00pm - 11.00pm
Price from $275
Overview
Tasting Australia presented by RAA Travel is postponed to 9 - 18 October 2020. We are now confirming all programming and this event will be updated with the latest details once they become available. Current tickets to events are transferable to these new dates and ticket holders will be sent their new tickets in due course. For more information on new dates and refunds please see here.
You know and love his fried chicken at Belles. But Morgan McGlone's talent doesn't end there. Classically trained, the skills he honed in top international kitchens will shape a menu honouring the role of mentors in a chef's career.
Sharing this Glasshouse Kitchen will be Shohei Yasuda, Victor Liong and Nathan Sasi. Each inspires McGlone and shares his aversion to compromise; each is busy creating a legacy in their own signature style.
The night's menu will feature dishes paying homage to significant influences for each chef. Don't expect straight replicas — you'll be treated to fresh new interpretations inspired by local ingredients.
Yasuda worked in France and at Michelin two-starred Kadeau Copenhagen before heading to Tokyo and opening Kabi. His restaurant fuses Japanese and Nordic cuisine, with an emphasis on pickling, fermentation and carefully matched wines.
New-style Chinese is the mission for Lee Ho Fook, Victor Liong's acclaimed Melbourne restaurant. He and McGlone are great friends — and housemates — who opened their first ventures within 10 months of each other.
Former Sydney chef Nathan Sasi staged at Husk, the same Nashville fine-diner where McGlone trained under Sean Brock. Now running Adelaide's Leigh Street Wine Room, Sasi has quickly won fans in his adopted home city. 
This Glasshouse Kitchen event includes four courses and matched wines. 
A NOTE ON DIETARY REQUIREMENTS
Glasshouse Kitchen menus are a convergence of South Australian regional produce at the height of its season. Our array of notable overseas, interstate and local chefs deliver sublime dining experiences, with a curated multi-course set menu. With this comes months of planning. Our cast of culinary stars will each create a unique one-off festival dish, or adapt an iconic signature dish to our local produce. Many of the dishes featured will simply not be suitable, or adaptable for particular dietary requirements by our visiting chefs, as some ingredients are embedded in prior preparations weeks out from the event.
The Glasshouse Kitchen can offer an alternative vegetarian and coeliac menu should it be requested at the time of booking. This menu, however, may not be designed or executed by the visiting chefs. If the opportunity to enjoy a meal from one of our festival stars is why you're thinking of joining us, we urge you to explore other events in the program that may be more tailored to your needs. But if the allure of our incredible Glasshouse Kitchen dining experience is what's piqued your interest, talk to us on [email protected] before booking and we will see what can be made possible.