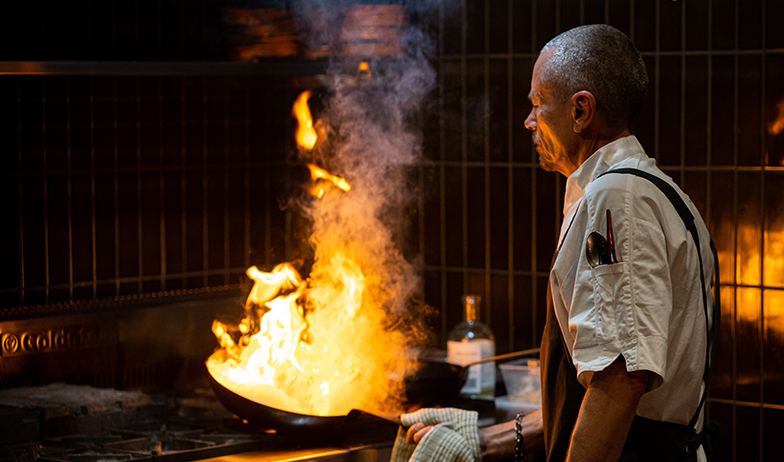 Simon Bryant Masterclass
Price from $185
Overview
This event will proceed within Government COVID-19 guidelines with the support of the Tasting Australia team as part of the Tasting Australia Local program.
Be part of an immersive cooking experience with one of South Australia's most renowned chefs, Simon Bryant, in an intimate masterclass environment followed by a three-course meal at Sparkke at the Whitemore's Rooftop Fire Grill on Sunday 30 August. Watch Simon up-close, learn some kitchen secrets from one of the best in the business, ask him questions and, of course, enjoy delicious food. 
All the while enjoying wine paired by leading SA winemaker Rose Kentish, as well as Sparkke's range of 100% natural brews, bubbles and spritzes.
There's no better chef and cooking personality than Simon to kick off the 20/21 Guest Chef series, a program that brings the nation's top chefs to Sparkke at the Whitmore. Tasting Australia's Festival Director since 2014, Simon has also worked in some of Australia's greatest kitchens, co-starred in the beloved 'The Cook & The Chef' with Maggie Beer and continues to model ethical and sustainable cooking practices with his small-batch natural food company dirt(y) inc and vibrant cookbooks. 
The event is part of Tasting Australia's Local Program created to support our food and beverage industry by shining a light on local initiatives and encouraging South Australians to re-experience and celebrate local. 
Says Simon: "This event gives us the opportunity to support local business and showcase the offering at Sparkke at the Whitmore in an interactive and intimate setting and I am privileged to be involved." 
Come join us on August 30 and watch Simon work his magic for a genuinely unique and intimate cooking experience.