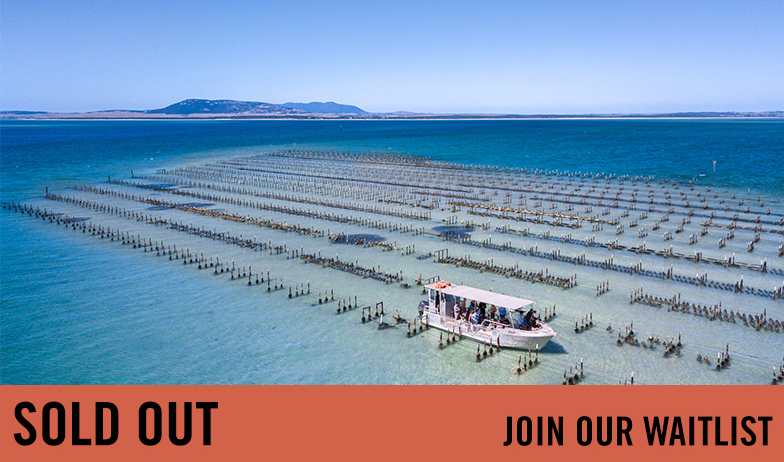 Tasting Australia Airlines - Coffin Bay
01 May 2021
7.30am - 5.30pm
Price from $775
Overview
This event has sold out again as at 4:45pm Tuesday, 6th April 2021.
Our event capacities are set based on 1 person per 2 square meters. As such, more tickets may become available for certain events as restrictions change. Sign up here to be notified if more tickets are released to this event.
Seafood? Yes. New experiences? You bet. Tasting Australia Airlines is off to Coffin Bay for an adventure shaped by the region's bounty.
Enjoy fresh oysters plucked from the ocean. Rake cockles on the beach. Travel to a local marron farm and taste this unsung hero at its very best. South Australia's Eyre Peninsula is revered for its seafood. You've savoured it on menus around the nation; now go straight to the source.
Your ticket covers the full day's activities: return flights from Adelaide – including champagne and light snacks on board – plus four-wheel-drive and boat transportation, food, beverages and excursions. A stellar group of chefs will meet you in region: Tasting Australia food curator Darren Robertson (Sydney's Three Blue Ducks and The Farm, Byron Bay), the legendary Maggie Beer, Adelaide favourite Emma McCaskill and Peter Clarke of Vintners Barossa.
Expect a dazzling, one-day-only menu of large seafood-driven snacks served in the region's most beautiful natural surrounds and accompanied by renowned South Australian white wines.

Guests on board for Tasting Australia Airlines Coffin Bay must be happy to get their feet wet and are encouraged to dress for outdoor exploring: we recommend sturdy shoes, a hat and jacket.
Treat yourself to raw beauty, warm hospitality and an unforgettable journey. Do the West Coast and back in a day.
Terms and Conditions of Sale and Entry
A Note on Dietary Requirements:
Tasting Australia presented by RAA Travel menus are a convergence of South Australian regional produce at the height of its season. Our interstate and local chefs deliver sublime dining experiences, with curated multi-course set menus, which take months of careful planning. Our cast of culinary professionals highlight seasonal, local South Australian produce in each of their unique dishes which have been created exclusively for the festival. Many of the dishes featured will not be suitable, or adaptable for particular dietary requirements by our visiting chefs, as some ingredients are embedded in prior preparations weeks out from the event. Tasting Australia can offer an alternative vegetarian and coeliac menu should it be requested at the time of booking, although this menu may not be designed or executed by the visiting chefs. If the opportunity to enjoy a meal from one of our festival stars is why you're thinking of joining us, we urge you to explore other events in the program that may be more tailored to your needs.
However, if the allure of this incredible dining experience is what's piqued your interest, talk to us at tastingaustralia@sa.gov.au and we will see what can be made possible.