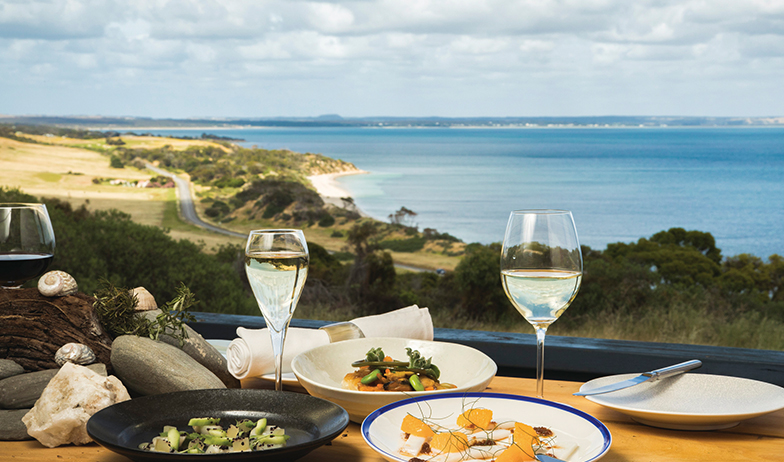 Tasting Australia Airlines - Kangaroo Island
09 May 2021
9.00am - 7.00pm
Price from $725
Overview
Climb aboard. Buckle up. You're going on an adventure. Tasting Australia Airlines is off to the dazzling Kangaroo Island for a full day of discovery.
You'll travel by private charter flight from Adelaide, with bubbles and a selection of snacks to begin. Journey to Sunset Food and Wine, a clifftop paradise perched above American Beach. The celebrated venue's owner and executive chef, Jack Ingram – newly appointed head chef at Jolleys Boathouse – will team up with mainland stars Duncan Welgemoed from Adelaide's Africola, Matt Stone of the new Future Food System project in Melbourne and Palisa Anderson from Sydney favourite Chat Thai to prepare a farm-to-table style lunch. Enjoy four courses featuring sustainably sourced and seasonal Kangaroo Island fare, paired perfectly with leading South Australian wines.
A Kangaroo Island Spirits tasting will follow lunch. This lauded distillery was at the forefront of Australia's boutique spirits renaissance and has claimed awards including the world's best contemporary gin. Learn more about the carefully crafted range.
From here you'll board for the return flight to Adelaide, a chance to reflect on time spent in one of South Australia's most beautiful regions.
Your Tasting Australia Airlines ticket covers all air and ground transport, champagne and a light snack during the flight to Kangaroo Island, plus the day's food and beverages.
Terms and Conditions of Sale and Entry
A Note on Dietary Requirements:
Tasting Australia presented by RAA Travel menus are a convergence of South Australian regional produce at the height of its season. Our interstate and local chefs deliver sublime dining experiences, with curated multi-course set menus, which take months of careful planning. Our cast of culinary professionals highlight seasonal, local South Australian produce in each of their unique dishes which have been created exclusively for the festival. Many of the dishes featured will not be suitable, or adaptable for particular dietary requirements by our visiting chefs, as some ingredients are embedded in prior preparations weeks out from the event. Tasting Australia can offer an alternative vegetarian and coeliac menu should it be requested at the time of booking, although this menu may not be designed or executed by the visiting chefs. If the opportunity to enjoy a meal from one of our festival stars is why you're thinking of joining us, we urge you to explore other events in the program that may be more tailored to your needs.
However, if the allure of this incredible dining experience is what's piqued your interest, talk to us at tastingaustralia@sa.gov.au and we will see what can be made possible.