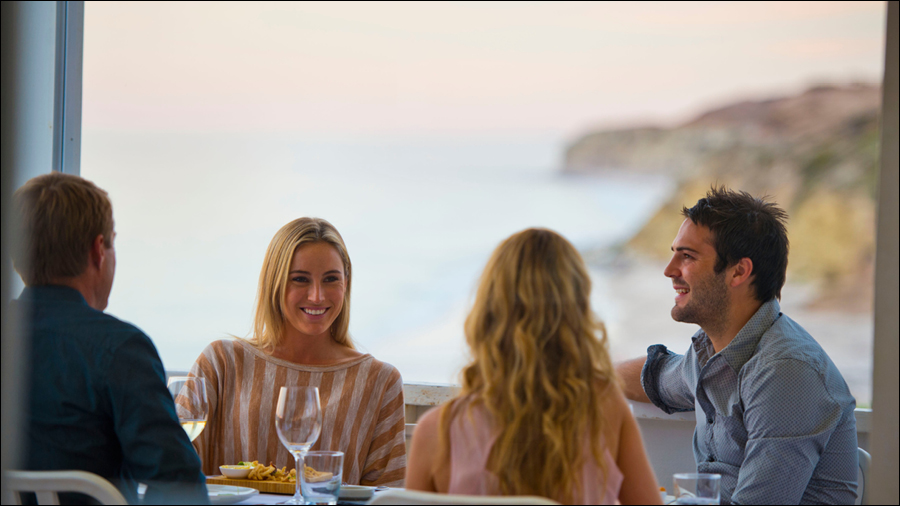 Tasting Australia Airlines: Melbourne to McLaren Vale
03 Apr 2020
6:45am AEDT - 7.40pm AEDT
Price from $680
Overview
Tasting Australia presented by RAA Travel is postponed to 9 - 18 October 2020. We are now confirming all programming and this event will be updated with the latest details once they become available. Current tickets to events are transferable to these new dates and ticket holders will be sent their new tickets in due course. For more information on new dates and refunds please see here.
Start in the vineyard and finish by the ocean. This full-day Tasting Australia Airlines journey takes you to the heart of McLaren Vale.
Enjoy breakfast in the air before setting off by road. Forty minutes south of Adelaide, this northern pocket of the Fleurieu Peninsula is dotted with exciting spots to eat and drink.
Your first stop is Hickinbotham Vineyard, which is set in the picturesque Clarendon hills. Here you'll be immersed in the vineyards and treated to a masterclass of Yangarra Estate and Hickinbotham Clarendon Vineyard wines with winemaker Peter Fraser. Taste pre-releases, back vintage wines and the 2016 High Sands Grenache – named 2020 Wine of the Year by James Halliday's Wine Companion – and take in the 100-hectare property, whose rows of carefully tended grapes are surrounded by creeks, native bushland and a luxury homestead.
Lunch will be hosted at the Star of Greece restaurant in Port Willunga. Named after a ship which sunk in the waters just out front of the restaurant in 1888, guests will enjoy some of the best produce the region has to offer. Forget filters: the azure water, sweeping cliffs and smooth sand need no embellishment.
Darren Robertson (Three Ducks, The Farm Byron Bay) and Bali-based restaurateur and street food specialist Will Meyrick (Sarong Bali, MamaSan Bali) will prepare your four-course meal, which includes premium beverages. Expect dishes to include seafood: the juiciest fresh-shucked oysters, or crabs just plucked from the pot.
To the beach? Of course. Stroll down to a seaside soiree conjured just for the occasion. Enjoy tastings of local fare, swim or simply walk the shore.
INCLUSIONS: 
Return private, chartered jet with Alliance Airlines. 5kg carry-on baggage
Breakfast on plane
All on-ground South Australian transfers
Wine tasting at Yangarra winery (The White House, Clarendon). Includes tasting of 2019 Best Wine of the Year - Yangarra Estate High Sands Grenache
Lunch at Star of Greece including premium wine and drinks. Please note, Star of Greece is not a Greek restaurant. 
Post lunch Port Willunga Beach drinks 
Download the full itinerary 
A NOTE ON DIETARY REQUIREMENTS 
Tasting Australia menus are a convergence of South Australian regional produce at the height of its season. Our array of notable overseas, interstate and local chefs deliver sublime dining experiences, with a curated multi-course set menu. With this comes months of planning. Our cast of culinary stars will each create a unique one-off festival dish, or adapt an iconic signature dish to our local produce. Many of the dishes featured will simply not be suitable, or adaptable for particular dietary requirements by our visiting chefs, as some ingredients are embedded in prior pre-preparations weeks out from the event. Tasting Australia can offer an alternative vegetarian and coeliac menu should it be requested at the time of booking. This menu, however, may not be designed or executed by the visiting chefs. If the opportunity to enjoy a meal from one of our festival stars is why you're thinking of joining us, we urge you to explore other events in the programme that may be more tailored to your needs. But if the allure of our incredible Tasting Australia dining experience is what's piqued your interest, talk to us on [email protected] before booking and we will see what can be made possible.