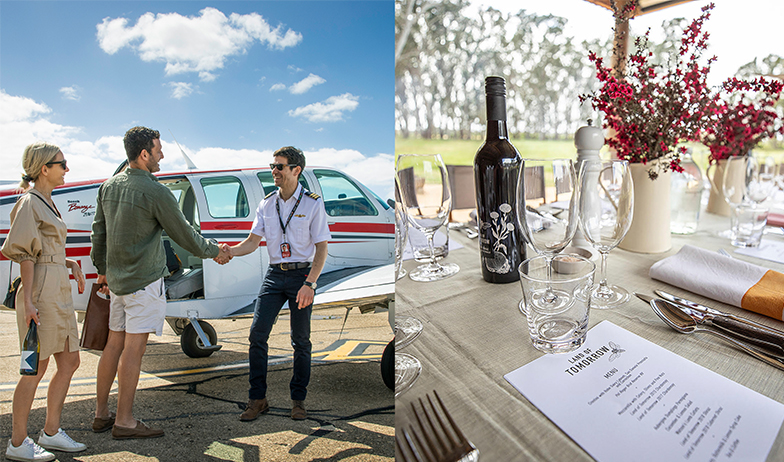 The Sky Beyond - flying to Land of Tomorrow, with Coonawarra Experiences
01 May 2021 - 08 May 2021
9.00am - 6.00pm
Price From $1,790
Overview
See Limestone Coast like never before with an all-inclusive package to the renowned wine region. Choose from a one-day or overnight visit and discover winemakers and producers alongside local guides.
You'll travel by private charter from Adelaide to Coonawarra, flying over the spectacular Adelaide Hills, Murray River and Limestone Coast with a Sky Beyond Air Tours by Astrawalker.
Upon landing, your guide from Coonawarra Experiences will greet you with a glass of local sparkling wine, before heading to Land of Tomorrow vineyards in the heart of Wrattonbully. You'll discover its unique limestone landscape - remnants of an ancient coastline, as you tour through the region.
Learn the history of Wrattonbully from families that have made this area home for generations and immerse yourself in the wonderful wines now being produced. Tucked away on the vineyard property is a rustic tasting hut surrounded by towering red gums that offset the crystal-clear waterhole found nearby.
You'll be treated to a long lunch of local produce prepared by a local chef, followed by desserts and cheese platters that are perfectly complemented by Land of Tomorrow's range of wines.
Guests joining the tour for the day will then depart for Coonawarra airfield for their return journey to Adelaide with a take home pack of Land of Tomorrow wine range.
Guests staying overnight will check into spacious accommodation in Penola for the evening; the historic Royal Oak Hotel is just metres away and the perfect spot for an ale.
The next morning you'll continue discovering the best Coonawarra has to offer with private winemaker sessions and a delicious luncheon with matched wines at Hollick Estates, before flying home with unforgettable memories.