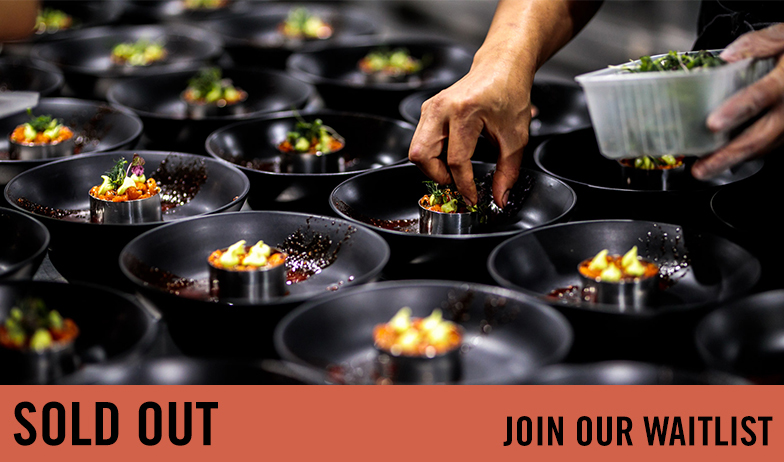 The World's Table
07 May 2021
7.00pm - 10.00pm
$295
Overview
Our event capacities are set based on 1 person per 2 square meters. As such, more tickets may become available for certain events as restrictions change. Sign up here to be notified if more tickets are released to this event.
Four chefs. Four diverse culinary backgrounds. One incredible eating and drinking experience.
Set off for a culinary exploration led by stars who take inspiration from all corners of the globe. This dinner will see local produce used in four stellar courses, each guided by its creator's international influences.
Cheong Liew is among South Australia's real food heroes. His first critical acclaim came for Neddy's, but it was The Grange where Liew made his most emphatic mark. Fresh, innovative and always evolving, his food incorporates Malay, Indian and Chinese elements.
Joining Liew will be Barbados-born Paul Carmichael, 2019 Gourmet Traveller Chef of the Year and executive chef at Sydney's Momofuku Seiobo. Carmichael's Caribbean dishes are drawn from a childhood spent cooking with his family.
Mat Lindsay is considered one of Australia's most inventive chefs, with Middle Eastern flavours featuring in his sought-after Sydney kebab shop Shwarmama. Lindsay also runs fine-diner Ester – favoured by off-duty chefs and offering an honest, finessed menu – plus wine bar Poly.
Louis Tikaram is also set to star. This award-winning chef was raised in regional New South Wales and discovered cooking alongside his Fijian-Chinese grandmother before stints in kitchens around the world. His career to date has included time at Sydney's Longrain and Tetsuya's, Los Angeles hotspot E.P. and L.P. and, most recently, Brisbane Cantonese restaurant Stanley.

Terms and Conditions of Sale and Entry
A Note on Dietary Requirements:
Tasting Australia presented by RAA Travel menus are a convergence of South Australian regional produce at the height of its season. Our interstate and local chefs deliver sublime dining experiences, with curated multi-course set menus, which take months of careful planning. Our cast of culinary professionals highlight seasonal, local South Australian produce in each of their unique dishes which have been created exclusively for the festival. Many of the dishes featured will not be suitable, or adaptable for particular dietary requirements by our visiting chefs, as some ingredients are embedded in prior preparations weeks out from the event. Tasting Australia can offer an alternative vegetarian and coeliac menu should it be requested at the time of booking, although this menu may not be designed or executed by the visiting chefs. If the opportunity to enjoy a meal from one of our festival stars is why you're thinking of joining us, we urge you to explore other events in the program that may be more tailored to your needs.
However, if the allure of this incredible dining experience is what's piqued your interest, talk to us at tastingaustralia@sa.gov.au and we will see what can be made possible.