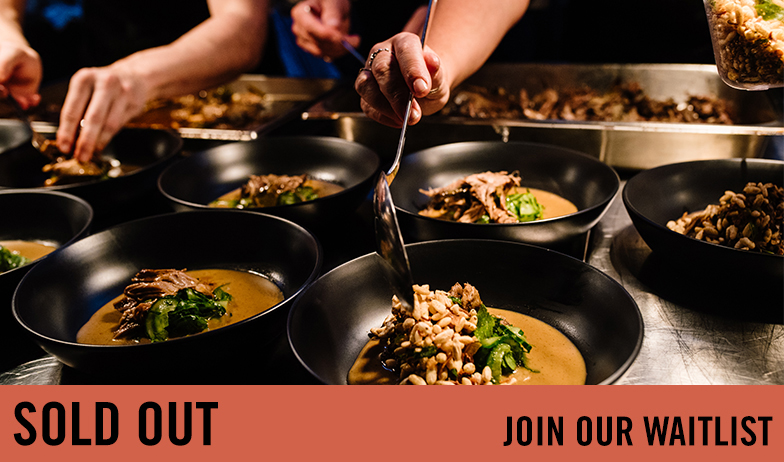 Wild
04 May 2021
7.00pm - 10.00pm
$295
Overview
Our event capacities are set based on 1 person per 2 square meters. As such, more tickets may become available for certain events as restrictions change. Sign up here to be notified if more tickets are released to this event.
Wild is an ethos. A state of mind. It's about embracing our place and all its possibilities. Challenging convention – and sharing a delicious meal in the process.
Tasting Australia's Wild dinner will feature three trailblazers united by their love of the road less travelled. Christine Manfield is among our most celebrated chefs, a curious cook and perfectionist inspired by the culinary melting pot of global flavours. Her achievements include leading three restaurants, mentoring young talent and advocating for meaningful, sustainable tourism.
Joining Manfield will be Mark Labrooy; a co-owner of the beloved Three Blue Ducks restaurants, he spent six years cooking across Europe before returning to shine on local shores.
Mat Lindsay is the man behind award-winning Sydney destinations Ester and Poly, plus the Shwarmama kebab shop in Surry Hills. He excels at modern, flavour-packed food that shifts with the seasons. 
A glass of low-intervention wine will be paired with each of Wild's four courses. Expect plenty of surprises and the very best wild fare from across South Australia.
Terms and Conditions of Sale and Entry
A Note on Dietary Requirements:
Tasting Australia presented by RAA Travel menus are a convergence of South Australian regional produce at the height of its season. Our interstate and local chefs deliver sublime dining experiences, with curated multi-course set menus, which take months of careful planning. Our cast of culinary professionals highlight seasonal, local South Australian produce in each of their unique dishes which have been created exclusively for the festival. Many of the dishes featured will not be suitable, or adaptable for particular dietary requirements by our visiting chefs, as some ingredients are embedded in prior preparations weeks out from the event. Tasting Australia can offer an alternative vegetarian and coeliac menu should it be requested at the time of booking, although this menu may not be designed or executed by the visiting chefs. If the opportunity to enjoy a meal from one of our festival stars is why you're thinking of joining us, we urge you to explore other events in the program that may be more tailored to your needs.
However, if the allure of this incredible dining experience is what's piqued your interest, talk to us at tastingaustralia@sa.gov.au and we will see what can be made possible.