Just a 50-minute drive north east of Adelaide, the Barossa is just one of our internationally acclaimed wine regions known for its big, bold flavours.
This Tasting Australia season, wander into one of the many cellar doors, restaurants and eateries to taste the sumptuous local wares, take a sip of a drop as old as you and explore the beautify that is the Barossa.
Check out some of our top picks below.
Matt Moran & Yalumba Farmgate Lunch
Be welcomed to the Barossa by a family passionate about sharing local food and wine. You'll spend the afternoon at Yalumba in Angaston, a grand estate with 170 years of winemaking heritage behind it.
Return coach transport from the city centre or Barossa (for the locals) is included; your only to-do is relaxing at long tables set in the gardens of the Yalumba property. Farm-fresh produce will feature on the lunch menu, with the celebrate Matt Moran to cook beside Tasting Australia Festival Director Simon Bryant. Along with enjoying the duo's food, guests are invited to watch them in action during cooking demonstrations throughout the afternoon.
Matched Yalumba wines will complete the picture; you'll also be treated to insights from winemaker Louisa Rose and brand manager Jessica Hill-Smith, while being hosted by Yalumba's Managing Director, Nick Waterman. Hear the latest on the 2020 harvest and be guided by this entertaining pair as they chat wine and its charms.

Sunday 29 March, 12.00pm | From $215 | Book now.
The Jacob's Creek Cook Off 
If you've become addicted to high intensity culinary contests, why not get a group of friends together for a cooking challenge without the pressure of being eliminated! Executive Chef Nik Tucker will be cooking up a storm, and you will have the opportunity to learn his kitchen tips and tricks without taking home the wooden spoon. It is a contest against the clock and other teams in this kitchen countdown – but this is an experience for home chefs of all abilities, it is all about the fun of food, and sharing those moments with friends and family. Over four hours, you'll create an entrée and dessert while our team sort out the mains, and then your prize is to enjoy every single bite of your culinary creation. The knowledgeable Cellar Door team will be your hosts for the day, guiding you through a selection of our Jacob's Creek wines.
Wednesday 1 – Sunday 5 April, 11.00am | From $140 | Book now.
St Hugo Flavours of the Market
Some of the Barossa's best wine-centric cuisine is making a special appearance at the Adelaide Central Market.

Join St Hugo executive chef Mark McNamara as he cooks a dish from St Hugo's award-winning restaurant and invites you to take a stallholder tour with a twist. This is no standard demo — you'll be led into the market, map in one hand and glass of St Hugo in the other, before strolling to a dozen providores and grocers that supply the cellar door's kitchen. At each stop you'll sample an ingredient to challenge your palate. Your quest is to guess which four items will feature in combination as a perfect match for the St Hugo wine in your glass. Guests will then gather at the Community Kitchen off Gouger Street to see Mark in action and learn whether their theories were correct. Everyone will receive a taste of the dish, with a bottle of St Hugo wine and branded apron to take home.
Tuesday 31 March and Friday 3 April, 10.00am | From $65 | Book now.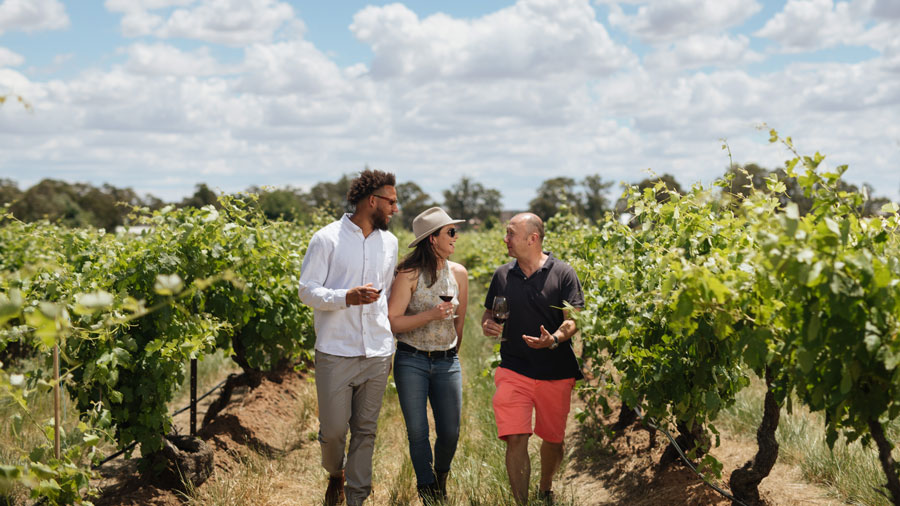 Saltram – Underground Tour & Tasting with Three-Course Lunch
Go underground for a tour and wine tasting at one of the Barossa's oldest estates before surfacing for an indulgent three-course lunch. Saltram, near Angaston, was established in 1859 and proudly celebrates Barossa tradition and heritage. You'll begin this experience with a tasting of Saltram premium wines, followed by a tour of the winery's cellar. Taste Mr Pickwick's tawny and gather in for a ghost story or two. A lunch table at Salter's Kitchen will be ready one you're back in the daylight.
Friday 27 – Sunday 29 March, Friday 3 – Sunday 5 April, various times | From $85 | Book now.
A Night in the Vines – Grant Burge Wines & The Cellar Kitchen's Immersive Experience
Harvest in the Barossa is when the region shines brightest: winemakers hard at work and a sense of promise in the air. Visit Grant Burge Wines to be immersed in the season. You'll begin with history of the Meshach Cellar, a carefully restored site perfect for tasting the Grant Burge range. Dinner will follow; indulge in a six-course meal with matched wines while surrounded by vineyards. The estate's chief winemaker Craig Stansborough and executive chef Derek Salmon will be on hand to discuss their crafts – you can simply enjoy them.
Friday 27 March, 6.30pm | From $200 | Book now.
Elderton – A Vineyard to Table Experience
Step beyond the tasting bench to discover to discover Barossa winemaking heritage at its best. The Elderton: A Vineyard to Table Experience promises an afternoon shaped by the relaxed, genuine hospitality this Barossa estate is known for. Stroll through the restored 1894 Command vineyard before enjoying a rare look inside the winery and seeing first-hand how magic is made. From there, you'll visit the Elderton Cellar Door for a tasting flight of five wines, each paired with a canape made from local produce.
Saturday 28 March & Saturday 4 April, 2.00pm | $75 | Book now. 
Yep, it's Another Barossa Wine Shed Dinner
Head for the beautiful grounds of Lyndoch Hill and to – you guessed it – a wine shed. But what a shed! Inside you'll find winemaker Mark Creed, chef Alana Brabin from If You're Game and traditional owner Yuandamarra. The six-course menu includes Birdwood venison, Greenslade chooks and kitchen garden vegetables. Enjoy canapes, an amuse bouche, bread, a plated first course, shared main straight from the fire pit, dessert and Barossa cheese. Creed Wines and craft wines will be served on arrival, followed by local treasures from Mark's cellar and port to finish. Yuandamarra will showcase Aboriginal artefacts and share stories shared before house band Yes Men takes the stage and invites you to dance the night away.
Saturday 28 March & Thursday 2 April, 6.00pm | From $150 | Book now.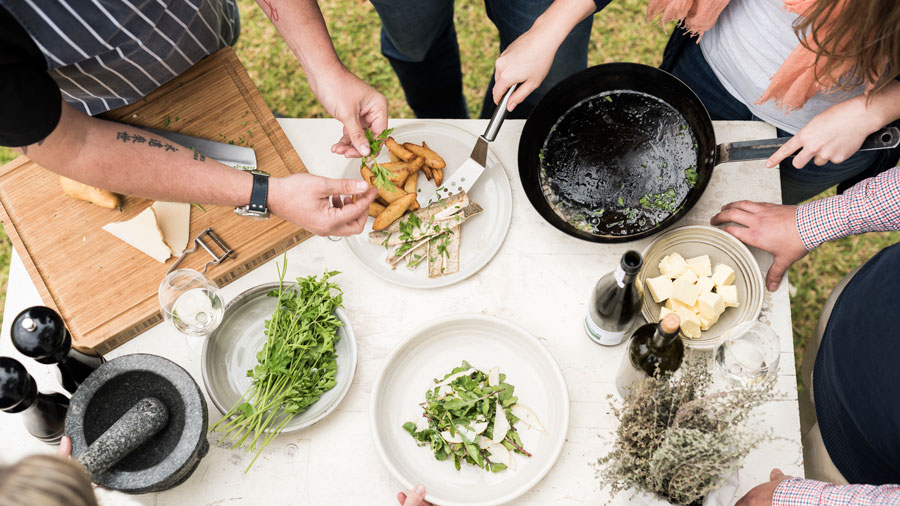 Tasting Australia presented by RAA Travel takes place from 27 March – 5 April 2020 in Adelaide and South Australia's regions. View the full program here.