Picture this…
Autumn days spent roaming around the leafy lanes of the picturesque hillside towns. Your glass is filled with some of the state's (and the world's) finest beverages as you dine on exquisite local produce that leaves you wanting more. You're experiencing something only our Hills can offer.
Sounds like a dream, right?
Then you will want to check out some of the inimitable Tasting Australia presented by RAA Travel events on in the Adelaide Hills this March and April.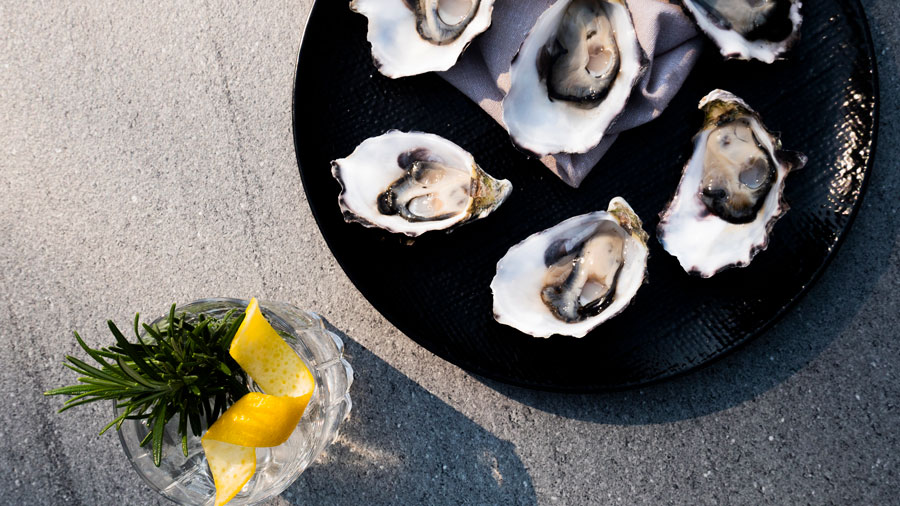 Gin & Oysters in the Hills
Gazander Oysters are bringing their freshly farmed oysters straight to the Adelaide Hills to team up with Local Gin Distillery Ambleside Distillers for a weekend full of gin, oysters and shucking good company! The event will kick off with a cocktail masterclass from Distiller Matt Dickson followed by a shucking demonstration by the team from Gazander Oysters. Each guest will enjoy two gin cocktails paired with a dozen oysters with house made toppings, one being a gin and tonic sorbet.
27 & 29 March, various times | From $75 | Book now.
Kuitpo Kollective
Join the Kuitpo Kollective of wine, beer and food producers in their 'backyard'; the iconic Kuitpo Forest. There'll be plenty tasty treats to enjoy for the whole family. Relax to laid-back tunes from local musicians, or simply stretch out and appreciate the magic of the forest. And did we mention an adult ticket includes a glass on your arrival?
Sunday 29 March, 12.00 – 5.00pm | From $20, kids free | Book now.
Lobo Orchard Feast
Head for the Adelaide Hills to enjoy a long lunch beneath apple trees laden with ripe fruit. The Lobo Orchard Feast is a celebration of the Lenswood harvest featuring pre-lunch drinks and canapés ahead of a four-course meal featuring local poultry, cheese and fruit. You will also sip matched spirits and Lobo cider while gazing across the vistas this region is loved for: vineyards and orchards folded across valleys, the afternoon sun slowly sinking.
Sunday 29 March, 12.30 – 4.00pm | From $150 | Book now.

The Luxury Brands of South Australia
Stay in Australia's most luxurious lodges, months ahead of their official launch. Enjoy the ultimate fine dining experience prepared by world class chefs. On arrival via luxury chauffeur, you will enjoy a 30-minute spa treatment or Adelaide Hills gin tasting. Your evening starts with orchestral music, canapes and sparkling Sequoia wine, then dinner will be prepared, in partnership between Paroo Kangaroo and Penfold's. Chefs Jin Choi (Hardy's Verandah) and Jared Ingersoll (Barrel and Beast) (31 March) or Duncan Welgemoed (Africola) and Paul Bentley (Magno Brasserie) (1 April) will deliver unbeatable dining experiences, paired with Penfold's wines, for an unforgettable dinner beneath the stars. This exceptional opportunity will be an experience you'll never forget.
Tuesday 31 March or Wednesday 1 April | $3000 | Book now.
Vine & Dine On Top of the Hill
Experience Adelaide Hills gem Pike & Joyce at its autumn best over lunch with matched museum wines from the property. Your afternoon in Lenswood will begin with canapés, a glass of bubbles and a guided vineyard tour led by Vigneron Andrew Pike. Lunch is to be hosted in Pike & Joyce's hilltop restaurant, where head chef Mathew Kinghorn and his team are driven by flavour, texture and aroma. Museum wines will be matched to each of the four courses. You won't find these bottles for sale at the cellar door; they're offered only on special occasions.
Thursday 2 April, 12.00 – 3.30pm | From $135 | Book now.

Golding Wines Western Branch Wine & Dine Safari
Ready for an adventure? Join Darren and Lucy Golding as they host a walking wine tasting safari through their Western Branch vineyard near Lobethal in the Adelaide Hills, followed by a five-course lunch. Expect the very best Adelaide Hills produce, much of it sourced from properties a stone's throw from Golding. Pack your walking shoes and treat yourself to a day of food, wine and good conversation between the vines.
Sunday 5 April, 10.00am – 3.30pm | From $200 | Book now.
Lot.100 presents the Ultimate Pizza Party
Think you're a pizza lover? Look no further. Here's your chance to indulge in unlimited pizza from Australia's best pizza makers including Pizzateca (McLaren Vale), Tom Bubner of Pizza e Mozzarella (Adelaide), Si Paradiso (Western Australia) and some very special guests from around the country to be announced. Compare different styles from the best of the best whilst washing it down with better booze from Mismatch Brewing Co, Hills Cider, Adelaide Hills Distillery, Vinteloper and Ashton Valley Fresh.
Sunday 5 April, 11.00am – 5.00pm | From $50 | Book now.
Tasting Australia presented by RAA Travel takes place from 27 March – 5 April 2020 in Adelaide and South Australia's regions. View the full program here.